Why Your Real Estate Business Needs SEO to Survive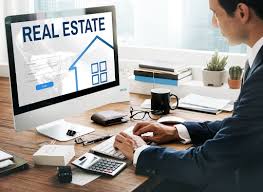 In such a competitive market, real estate agents need a strong online presence to thrive in a competitive industry. With potential homebuyers relying heavily on search engines to find properties and agents, it's crucial to implement effective SEO (Search Engine Optimization) strategies.
In this article, we will dive deeper into SEO services for real estate agents, exploring key aspects and providing valuable insights on how to harness its power to drive success. Let's explore the intricacies of SEO and discover how it can transform your real estate business.
1. Comprehensive Keyword Research:
Keyword research is the foundation of any successful SEO campaign. As a real estate agent, it's essential to identify the most relevant and valuable keywords for your target audience. Consider factors like location-specific keywords (e.g., "Miami real estate agent"), property types (e.g., "luxury condos for sale"), and buyer or seller intent keywords (e.g., "best real estate agent to sell my home"). By conducting thorough keyword research, you can optimize your website and content to align with the queries potential clients are searching for, boosting your visibility in search engine results.
2. On-Page Optimization:
Optimizing your website's on-page elements is crucial for SEO success. Ensure that each page has a unique, descriptive title tag and a compelling meta description that entices users to click. Incorporate relevant keywords naturally into your page's headings, content, and image alt tags. Additionally, optimize your URLs, ensuring they are concise and descriptive (e.g., yourdomain.com/miami-real-estate-agent). By fine-tuning these on-page elements, search engines will better understand your content and rank it higher for relevant searches.
3. Quality Content Creation:
Content is king in the world of SEO. For real estate agents, creating high-quality, informative, and engaging content is vital. Consider crafting blog posts, articles, or guides that cover topics such as local real estate market trends, buying or selling tips, neighborhood spotlights, or property investment advice. Incorporate your target keywords naturally within the content while providing value to your audience. By consistently producing valuable content, you establish yourself as a reliable resource, attract organic traffic, and increase the likelihood of converting visitors into clients.
4. Local SEO Optimization for Real Estate Agents:
Real estate is inherently a local business, making local SEO optimization crucial for agents. Claim and optimize your Google My Business listing, ensuring your contact information, business hours, and description are accurate and up-to-date. Encourage clients to leave positive reviews on your listing to boost your credibility and reputation. Additionally, leverage local directories and citation sites to create consistent NAP (Name, Address, Phone number) listings across the web. By optimizing for local SEO, you enhance your chances of appearing in the "Local Pack" or map results for location-based searches.
5. Link Building and Online Reputation Management:
Building a robust online reputation and acquiring quality backlinks are essential for real estate agents' SEO success. Seek opportunities to collaborate with local businesses, industry influencers, or community organizations to earn backlinks to your website. Guest posting on relevant industry websites or contributing expert insights can also help establish your authority and acquire valuable backlinks. Monitor and manage your online reputation by promptly addressing client reviews or feedback, maintaining a positive online image that resonates with potential clients.
Get a SEO quote today
SEO services for real estate agents is useful for those producers who are looking to grow and gain recognition in the digital market place. By implementing comprehensive keyword research, optimizing on-page elements, creating quality content, focusing on local SEO, and building a strong online reputation, real estate agents can elevate their online visibility, attract qualified leads, and establish themselves as trusted authorities. Utilize the power of SEO, adapt to evolving algorithms, and watch your real estate business flourish in the competitive digital landscape.
Remember, SEO is an ongoing process that requires consistent effort and adaptation. Stay informed about industry trends, engage with your audience, and optimize your strategies accordingly. By making SEO a cornerstone of your real estate marketing efforts, you'll unlock the potential for long-term success and establish your real estate brand as a force to be reckoned with in the online world.
Contact us today for a quote and see why real estate agents across the Country use our local SEO services to help their business grow, sell more listings and build brand recognition