3 Powerful SEO Tips for Law Firm Exposure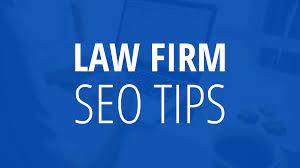 We will discuss law firm SEO tips for lawyers and what you need to do so that your law firm can get better rankings in search results with our powerful law firm SEO tips.
As a law firm, having an online presence is essential, but it's not enough to simply have a website or social media account.
That's where Search Engine Optimization (SEO) comes in
SEO for law firms involves optimizing online content to improve visibility on search engine listings.
The objective is to create a great user experience that meets potential clients' needs and leaves a positive impression.
Here are some actionable tips for building an engaging online presence for your law firm using SEO:
Start early: The sooner you start building your SEO strategy, the better
It is becoming increasingly competitive for law firm websites to rank on search engines as more and more law firms realize the benefits of SEO, we can provide you with the best law firm SEO tips, strategies and show you the best law firm SEO trends to help increase your brand exposure online.
Increase traffic: With SEO, you can increase the incoming traffic to your website
By targeting the right keywords and publishing relevant content, you attract a more qualified lead, since the people who find your website on search engine listings are more likely to be interested.
Strengthen brand awareness: Getting discovered on search engine pages also increases your brand awareness.
By publishing quality content that exhibits your firm's values, you create more opportunities to connect and increase recognition.
The Best Law Firm SEO Tips
Grow your customer base: With increased traffic and a strong brand presence on your website, you are more likely to turn visitors into loyal clients by establishing yourself as an authority through genuinely useful content.
Create strategies for lead generation: To build a successful lead generation engine with SEO, you need to create strategies to catch users at different stages of their user journey.
Ensure your website provides them with the right content, as well as a clear path to conversion to become a lead.
Define your target audience: You can't write relevant, engaging content without knowing who you're talking to.
Define your target audience and speak clearly to their needs
Do your keyword research: Research what keywords your specific target audience is using when searching for legal services to ensure your content attracts relevant leads.
Create educational SEO content: Focus on creating highly informative content that is relevant to the keyword.
Consider educational content that targets keywords related to your business and that cater to users at different stages of their search intent.
Create user journeys from the search intent: Once you know your target audience and have created quality content that caters to their needs, you need to make sure that each piece of content has a clear path to conversion.
Invest in an SEO tool that can handle your law firm SEO program: Find an SEO tool that strikes a balance between being powerful and easy to use, especially if you don't have advanced technical expertise in-house.
Contact our Agency for SEO Tips for Lawyers Today!
By following these tips, your law firm can build an effective SEO strategy to attract and retain clients.
Remember, SEO tips for lawyers is a long-term strategy that can yield lasting results.
Contact us for a consultation to see how we can help your law firm improve your SEO results.
Our digital marketing agency specializes in law firm SEO tips and we can provide your law firm with more local exposure to help you generate more leads and clients. We can create an actionable digital marketing plan to help increase your exposure and improve your website ranking in search results.
Get in contact with our agency to schedule a consultation today!